TikTok traces an interesting path into the hearts and minds of America. Releasing August 2nd, 2018 following its Chinese parent app Douyin's merger with the then-popular(ish) Musical.ly, it began life much within the purview of teenagers. It seemed that the 15-60 second videos, primarily dance and lip syncs, were not popular with the older crowd, or at the very least, the older crowd weren't interested in creating the content themselves. This did not hold it back however becoming widespread throughout China, then the States, and finally the rest of the world.
2019 saw the app begin to mature and make a name for itself beyond 'that thing the kids are into these days'. Reaching 35.6 million monthly users in the US by end of the year, it was cemented into the public conscience and was here to stay. It had not quite yet achieved the same level of cultural relevance as it's other media counterparts such as Facebook and Instagram, but it was well on its way.
Cue the year of covid, 2020. Many people find themselves at home, spending more time in front of screens, and exploring alternative revenue options especially those in the influencer space. TikTok exploded in popularity seeing a rough doubling of monthly users and is currently on track to reach 66 million in the United States by the end of 2020, almost a fifth of the population. It's hard to say what effect covid had on TikTok but in our humble opinion, the upbeat positivity of much of its content gave us a welcome reprieve from the harsh reality of the global pandemic. Furthermore, much of TikTok's content is best made in the privacy of your home because having other people watching you repeat scripted dances can be a little embarrassing for many. Covid accelerates trends, and TikTok is trending. We at CreatorDB began to take notice.
So let's look at the three biggest names and stories of the year. TikTok recently dropped their year in review article which covers creators of many different kinds. We'll take a deep dive into the three creators that in our mind helped the most in making TikTok a household name.
1. Nathan Apodaca aka Doggface208
Nathan Apodaca is our first and perhaps most heartwarming story on the list. Living in Idaho and working as a potato warehouse laborer, he had been slowly building his TikTok following via the usual lip-sync and dance routine. What stood him apart was his music choice consisted of more than just the TikTok flavor of the month, most being solid bangers. Many videos included him skating on his longboard which when combined with his smile and song choice gave us serious older-hip-dude vibes. Then on September 25th, he dropped his magnum opus, the now-esteemed clip of him boarding along a highway, drinking Ocean Spray Cran-raspberry juice, set to the calming beats of Fleetwood Mac. It's hard to put your finger on what caused this to blow up. Was it the refreshing and relatable breakfast he was drinking (Trigger warning: Sugar)? His feather head-tattoo visible through buzz-cut hair in the wind? That he seems totally unconcerned by skating on what appears to be a large road? It's really a combination of everything, a perfect representation of feeling free before arriving at work.
Since this video, his life has been on the up and up. First of all, he generated so much free press for Ocean Spray that they bought him a truck - nice. He continued to grow his platform and was recently reported to have paid $320K cash money for a new house. Nathan is the epitome of social media success, a true underdog story. The takeaway is putting yourself out there, being upbeat and positive, and releasing content consistently can lead to great things.
2. Bella Poarch (45.8M Followers)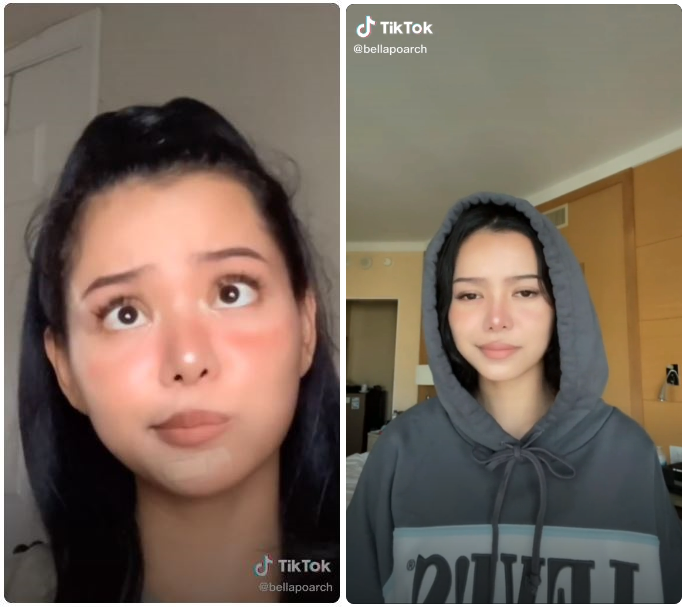 Bella is a name (and face) you will see if you've spent any time at all on TikTok in the past 6 months. Creating on the platform since April, she was catapulted to absolute TikTok stardom when she released her rendition of the (at the time) somewhat popular 'M to the B' lip sync.
Replete with perfectly synced syncing and quirky face-pulling, it gained instant popularity and for a time became a huge trend to 'Duet' with the video. A duet is having your video play side-by-side with another creator. Countless videos were made with people trying to mimic her exact facial expressions, and many women even recreated her exact look through the crafty use of make-up. Also interesting is that Bella's 11 second cut of Millie B's original completely eclipsed in views and popularity.
Bella, whose real name is unknown, is a Philippines born American who reportedly served a tour with the United States Navy. Little is known about her time in the forces but she has been outspoken about her struggles with PTSD and anxiety. She continues to remain very private about her past despite the hoards of adoring fans wanting more. Her only real brush with controversy was when some fans noted a tattoo on her arm of the Japanese rising sun, the symbology used by Imperial Japan. This understandably got many in the East (especially in Korea) riled up but she handled it with grace, got another tattoo over the top, and publicly apologized stating she wasn't aware of the history of that symbol. Well played.
Only time will tell if Bella has enduring success or if this was just a flash in the pan. One thing for sure is she has already leveraged some very large promotions estimated to be in the hundreds of thousands of dollars. And with TikTok's new creator fund, set to reach 1 Billion yearly by 2023, she stands to make quite a bit more. This however has not been without controversy with creators already upset that payouts are low when compared to other social media platforms.
3. Devon Rodriguez Art (9.6M Followers)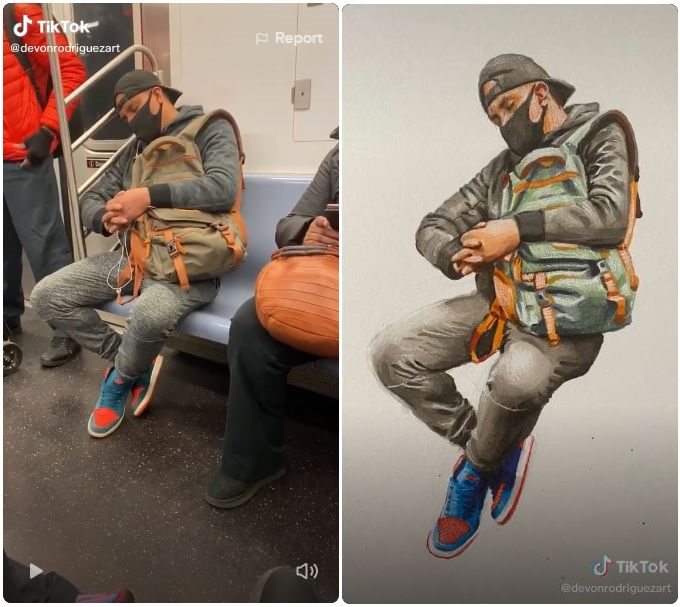 If Bella's schtick is pulling cute faces, and Nathan's being a carefree bro, Devon's is drawing candid pictures of strangers on the subway. That may sound kinda creepy but trust us, it's not. His beautiful renditions of subway passengers provide wonderful slices of life. It's hard to view them and not get lost in the possibilities of his subject's world. Where are they going? What are they doing? What are they thinking? What concerns them? What makes them happy? It evokes strong feelings of humanity and connectedness, along the same lines as Humans of New York.
Born in 1996, Devon grew up in New York's South Bronx. His first foray into the world of art was graffiti, a skill he developed from ages 8 to 13 at which time he was arrested for tagging. He then turned his creativity towards portrait drawings and paintings. While at high school he was discovered by famed sculptor John Ahearn who requested Devon be the subject of his work. The Rodriguez Twins was the result and it went on to win the Outwin Boochever Portrait Competition. Devon continued to develop his craft, eventually building a huge following on both TikTok and Instagram, he even collaborated with our previous entrant Bella. Three years after John Ahearn created the aforementioned sculpt, Devon painted a portrait of John and came very close to winning the same prize but was just beaten out. A fairy tale ending that didn't come to pass. The future is still very bright for this 24-year-old and we'll be keeping tabs on him as he continues his joyous craft.
His work can be found on his website and we encourage you all to check it out.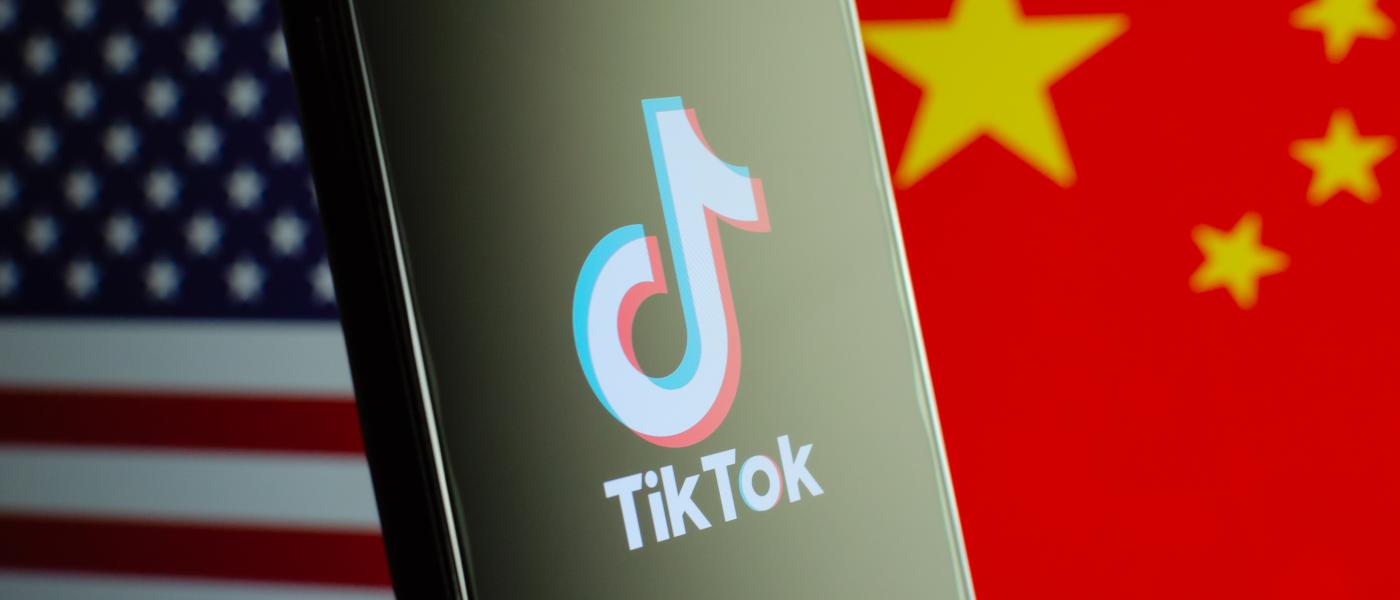 Photo: Ascannio / Shutterstock
TikTok continues to be a point of real interest for many reasons. Chinese-American relations. The influence of big tech. The future of influencers and influencer marketing. Algorithmically driven content. Be sure to keep an eye out for our upcoming articles about the platform, and if you'd like to learn about the creators that didn't quite make the cut then leave a comment and if there's interest we at CreatorDB will make a follow-up piece.