Hi Everybody!
We're back from our Lunar New Year break with another update blog! This month saw the addition of some highly requested features which provide further options for influencer discovery. They are also steps toward our goal of holistic creator profiles that are platform agnostic, providing a simpler and more accurate view of who the creators are, who their audiences are, and if they're a good candidate for your campaigns. A big thanks to all of ours users who submitted feedback, you really are helping to shape our platform into the very best.
If you're interested in Instagram then you'll want to stay tuned for update 1.3 which will see many exciting features added to CreatorDB to support brands and agencies operating there.
1. Instagram information in channel details
To start us off this month is our improved Instagram creator profiles. In version 1.1 Instagram was left a little in the shadows, and given that YouTube + Instagram influencer sponsorships are becoming increasingly common, we thought it was time to build out better Instagram statistics.
You can now view full Instagram stats and insights within a creator's profile (pictured). Some highlights include recent hashtags to get a quick idea of the content being published by a particular creator, recent posts to view that content, and finally engagement rate, average likes, and average comments – all extremely useful when determining how much to pay the creator.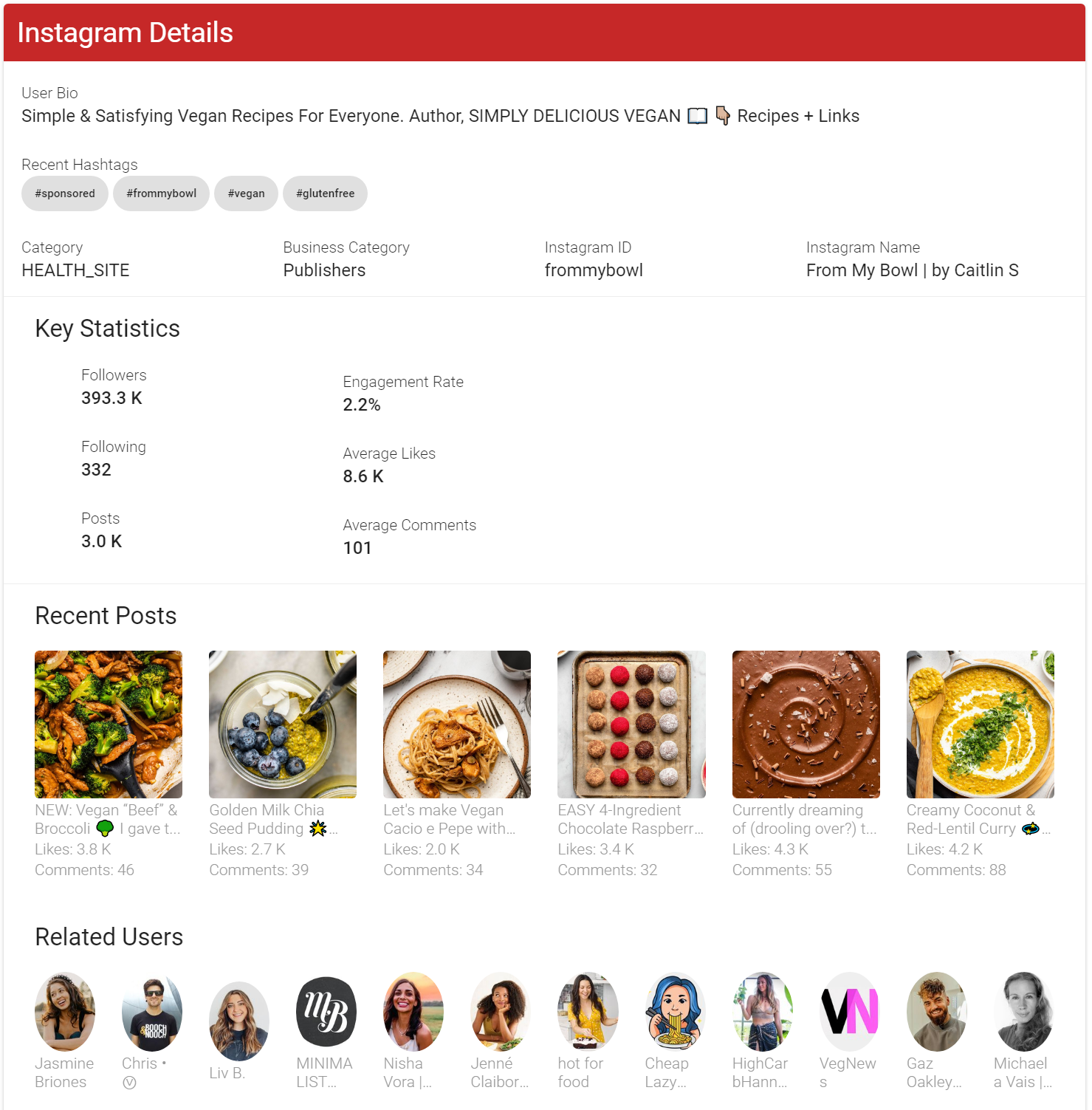 As we mentioned before, more in the Instagram space are on the way soon!
2. CPM & estimated pricing adjustment
Following feedback we received from our users, we have improved upon our Estimated/Suggested CPM calculations. In short, we were calculating CPMs in a very linear fashion which led to Nano and Micro creators having values that were too low, while Macro creator values were too high. Our new method utilizes an algebraic function that better reflects real-world pricing with Nano/Micros fetching a higher CPM than Mid-tier and Macros on average. On top of this, the costs for most creators have increased to match the data we have received from our campaigns along with other user feedback.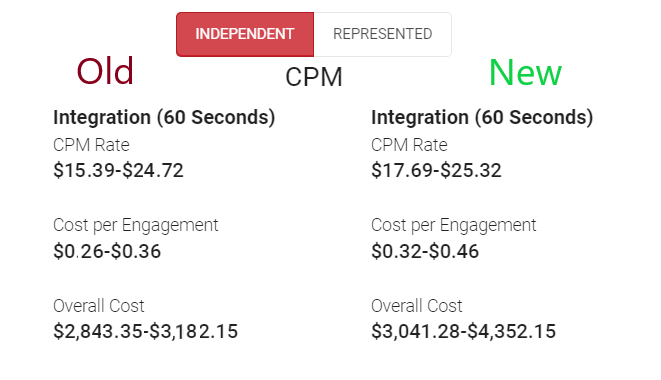 We expect that you'll find estimated costs and suggested CPMs to be much more in line with reality and we'll continue to make adjustments to these figures as time progresses. We especially welcome any input on the price of influencer activations to help improve accuracy.
3. Related creators search (via groups)
Influencer discovery is what we pride ourselves on so we've opened up another option to find new creators. Using our creator groups feature, you are now able to search CreatorDB for channels related to the creators within a group. This is the perfect way to build out your existing creator groups with new additions that you didn't find while using our other search and discovery methods. This also allows you to assemble campaigns very quickly. Start by finding 5 to 10 high-quality creators with content and audience in your target area, place them into a group, then run the related search to find new creators in the same space.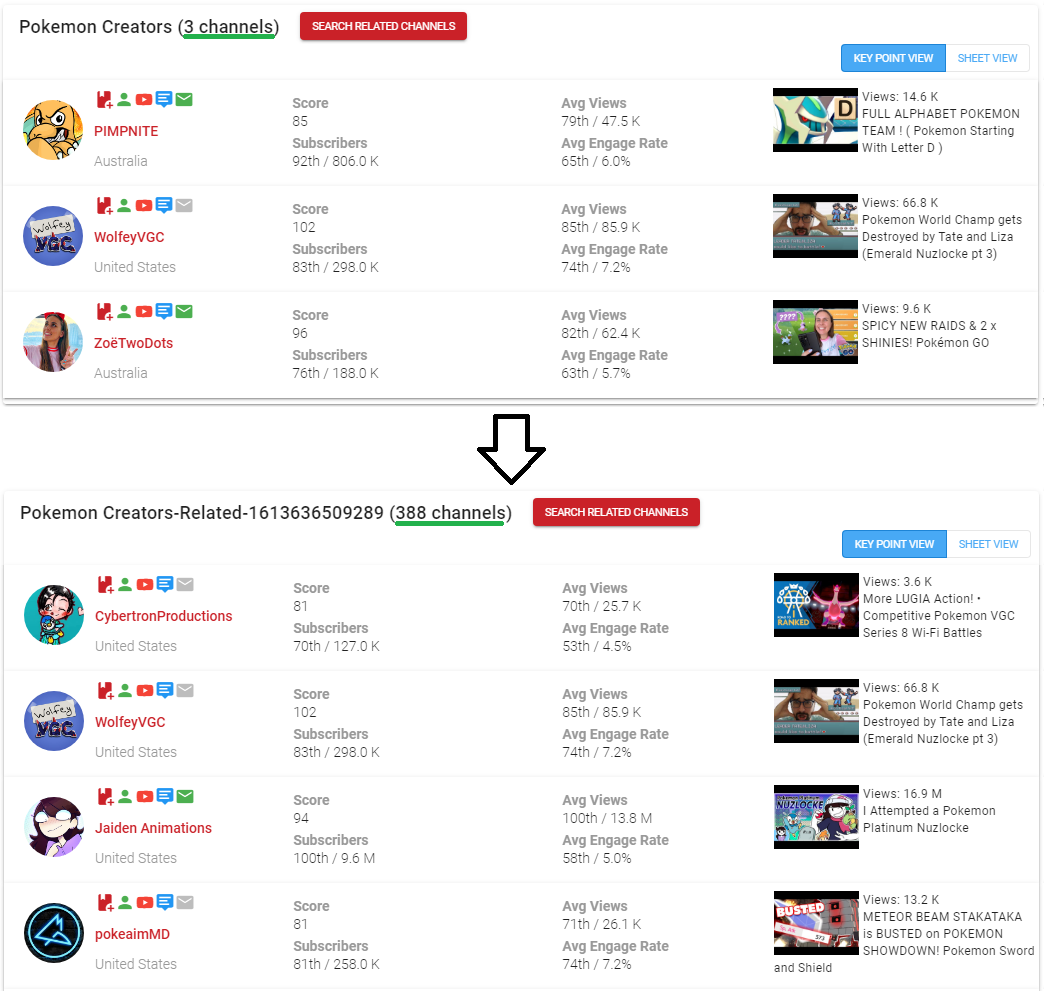 As you can see the results of a related search become a new group, allowing you to run yet another related search for even more channels!
4. Customizable search results display (called sheet view)
Our final addition has been an updated customizable search display. By switching the toggle from 'Key Point View' to 'Sheet View' you can add and subtract creator statistics from your search results page. This allows you to choose stats that are important to you, and ignore the rest. For our searches we like CreatorDB Score as a quick performance ranking, Average views and Engagement Rate for pricing, and Name, Avatar, and Most Recent Video to get a feel for the channel.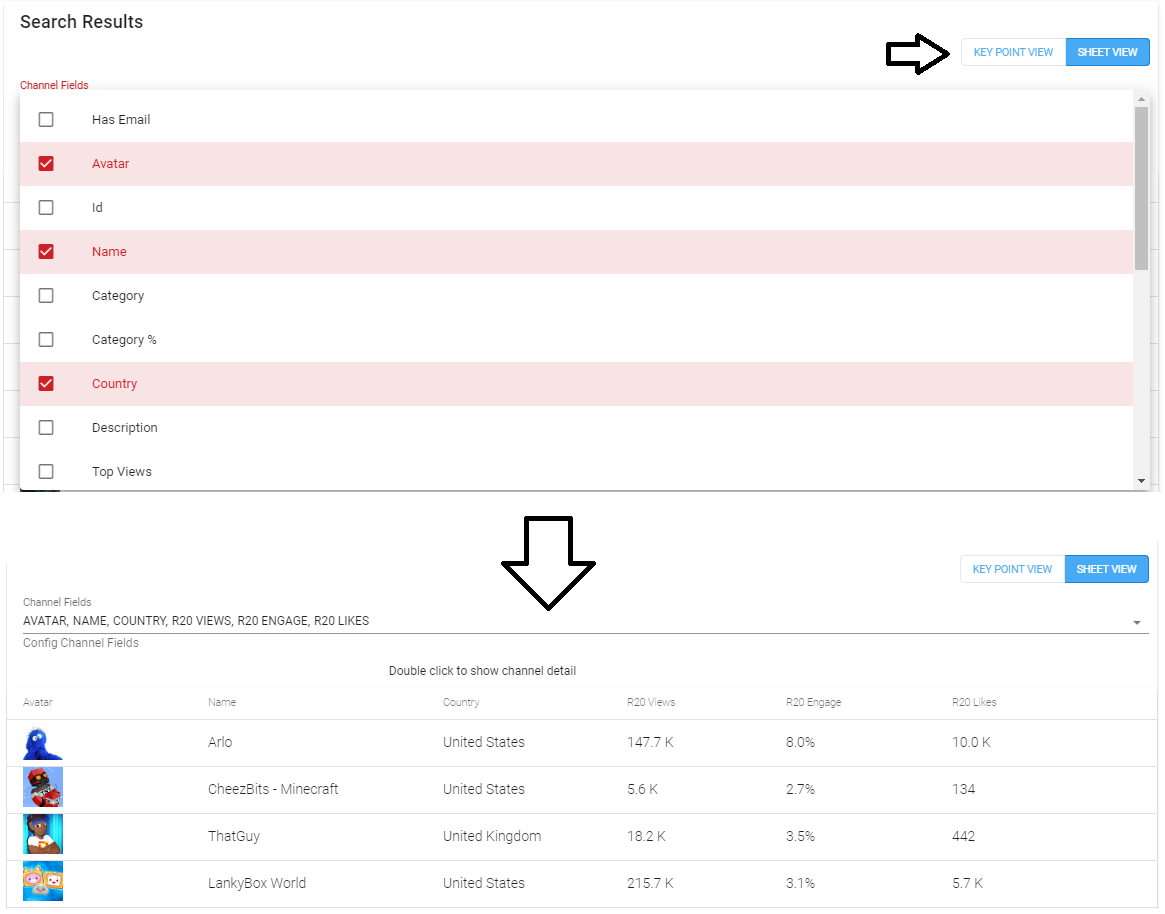 You're able to add any of our dozens of tracked statistics and data points to the fields. Play with it, see what you like, or keep it simple by switching it back to our default view.
That's all from us this month. Stay tuned for our next update coming soon which will see further steps towards additional Instagram features as well as moving CreatorDB towards being more platform agnostic.